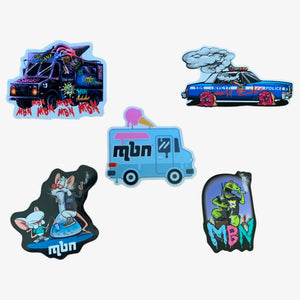 Signature Sticker Pack
5 stickers total, one of each listed below!
MBN Truck Size 1.5" by 1.4"
NYPD Squad Car Size .5" by 1.5"
Terptar Sticker Size 1" x .8"
Got Pinky Sticker Size 1" x 1"
Must Be Joker Sticker Size 2" x 1.5"
All items are made to order and take approx. 2 weeks to ship. Please contact customer service with any on going order inquiries. We can't wait for you to receive your item!